Effective Pest Management Solutions In Madisonville, Louisiana
Here in Madisonville, we love being on the North Shore of Lake Pontchartrain. Not only that, but we also have the Tchefuncte River running along the eastern border of town. Our proximity to the water isn't only attractive to visitors from around the country, but it is also a huge draw for nuisance pests. When pests invade your home and/or business, they put you at risk of experiencing an infestation. In order to protect yourself, you need help from the pest professionals.
River City Termite & Pest is at your service. We are a family-owned and operated company that is committed to offering superior pest control services at affordable rates. Since 2007, we've been protecting homes and businesses all along the Tchefuncte River from the dangers of pest infestation. Maybe there's a rodent problem in the basement, or perhaps you've discovered cockroaches in the kitchen. Whatever it is, we can guard your property against the potential contamination and destruction of nuisance or dangerous pests. Contact us today to discuss your residential or commercial pest control needs. We're happy to talk to you about your pest situation, and we offer detailed estimates with no obligation.
Residential Pest Control In Madisonville, LA
Who wouldn't want to own a home in Madisonville? It has historic charm, a close-knit community, and all the river views you could ask for. But, before you get too cozy, let's talk about pests. Household pests are determined to get inside homes to access sources of water, food, and shelter. If you want to effectively avoid infestation, you need ongoing services from the pros.

River City Termite & Pest offers comprehensive pest control services that guarantee year-round protection from pest infestation. Using our tried-and-true general pest control process, we cover the interior and exterior of your home, paying close attention to problem areas and hot spots. Once we identify the nature of your pest situation, we'll come up with a customized plan just for you. We also offer a long list of specialty services including new construction termite control, wood-destroying insect reports, bath trap services, and strategic treatments for mosquitoes, fleas, cockroaches, and termites. Call us to discuss your residential pest control needs and we'll get the ball rolling.
Five Ways To Prevent Cockroaches In Your Madisonville, LA Home
Not only are cockroaches an upsetting sight, but they also can cause widespread contamination. If you want to do everything you can to reduce your chances of a cockroach infestation, there are some preventative measures that you can take. Here are five helpful tips for avoiding cockroaches:
Apply weather stripping around windows and doors.

Don't leave any food out. Store it in tightly sealed containers; pet food included.

Keep your household appliances clean.

Keep your property clean and free of clutter.

Reduce sources of humidity and excess moisture.
While these are all great ways to avoid cockroaches, none of them are entirely reliable. The best, most effective way to protect your property from cockroach infestation is to enlist the help of the team of professionals at River City Termite & Pest. We offer complete cockroach control and prevention services that leave you with lasting results you can feel good about.
Do You Know The Signs Of Termites In Madisonville, LA?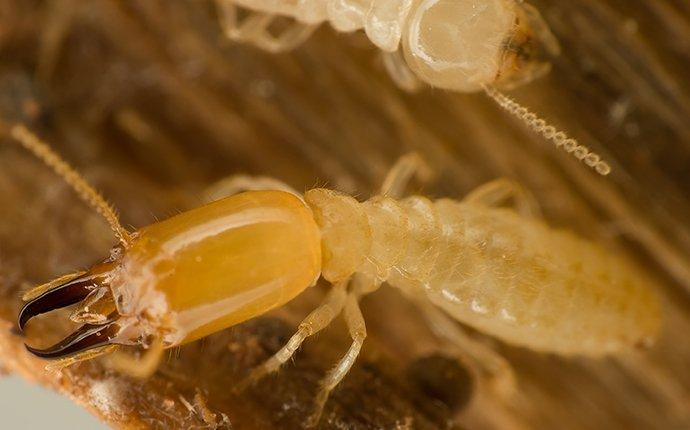 It's so important to be able to detect termites because the sooner you discover a termite infestation, the sooner it can be addressed. In order to figure out if you have termite activity, there are some signs you can look out for.

Termites cause moisture problems, so you'll likely see indications of water damage. You may also hear small tapping sounds from inside the walls, or see gallery tunnels through the drywall. If you see any white ants nestling in the soil near your structure, these are worker termites. There's actually no such thing as white ants, so you'll know this is a clear sign.

If you think you have termite activity happening on your Madisonville property, contact us today. We know how to handle these wood-destroying moisture pests and we can help you protect yourself from infestation all year long.
Commercial Pest Control In Madisonville, LA
If you own a commercial property in Madisonville, chances are you're aware of all the potential dangers and threats that could take you down. There are natural disasters, inclement weather, and then there's pest activity. Commercial pest infestation is a huge problem. It puts your facility at risk, and more importantly, the health and safety of everyone inside of it. You need protection, and we're here to provide it to you.

Our commercial pest control solutions protect many Madisonville businesses from pest infestation. Some businesses we service are office buildings, industrial sites, daycares, and dormitories. Using only the safest, most effective treatment methods, we eliminate pest activity from your facility and perform the necessary exclusions to keep them out for good. Our follow-up visits are scheduled at your convenience and we're always available with advice and assistance when you need it.
Schedule Your Free Inspection
Complete the form below to schedule your no obligation inspection with River City Termite & Pest Control, Inc..
Affiliations & Accreditations