Mandeville, LA Pest Control Services
Just across the lake from the historic city of New Orleans, is our beautiful city of Mandeville. We're located right on the north shore of Lake Pontchartrain, and that brings us notable moisture and humidity levels. Nuisance pests are thirsty and looking for sources of food, water, and shelter on your Mandeville property. You need a reliable way to protect your home or business from a pest infestation, and you've come to the right place.
For the best pest protection from Baton Rouge to the Northshore, look no further than River City Termite & Pest. Since 2007, our family-owned and operated company has been servicing residential and commercial properties with comprehensive pest control solutions. We are proud to offer superior services at affordable rates, always making customer service our top priority. Our certified team of state-licensed pest technicians provides a long list of general and specialized solutions to make your property pest-free all year long, guaranteed. Contact us today to set up an initial inspection.
Residential Pest Control In Mandeville, LA
Protecting your home from pest activity is crucial. The health and safety of you and your loved ones are at stake, and that's the most important thing to consider. In order to protect your home and family from a pest infestation, you need pest control services from the professionals. River City Termite & Pest is at your service.

No matter the nature of your residential pest control needs, we have your back. Our six-step general pest control process guarantees full coverage of the interior and exterior, including trusted treatments that guarantee to leave your property pest-free. We also offer a variety of specialized residential services, such as:
Bath Trap Services

Cockroach Control

Flea Control

Mosquito Control

New Construction Termite Control

Termite Control

Wood Destroying Insect Reports
The team at River City Termite & Pest has extensive experience in the accurate detection and successful extermination of nuisance pest activity. Don't let household pest infestations threaten you and the people you love. Do the smart thing and set up an inspection with the pest professionals. Our services will help you rest easy, knowing your home is protected year-round. We also offer same day and emergency services, because being there for you is of paramount importance. Call us for a detailed estimate.
Do You Know The Dangers Of Mosquitoes In Mandeville, LA?
Sometimes, when we go outside, we forget to put on bug spray. What's the big deal, right? A couple of mosquito bites isn't the end of the world. But, mosquitoes can cause a lot more harm than an itchy bite. Mosquitoes are bloodsucking vector-pests. When they feed, they are capable of transmitting a long list of diseases to their host.

If you get bitten by an infected mosquito, it can put your health at risk. Some of the most common vector-borne illnesses include Zika, West Nile, and malaria, among many others. These are serious conditions that can become fatal if not addressed.

To adequately protect yourself from these vector-pests, you need help from the pros. River City Termite & Pest is here to help. We offer trusted mosquito abatement services and exterior applications that guarantee year-round protection from these blood-sucking pests.
Guide To Detecting Termite Activity On Your Mandeville, LA Property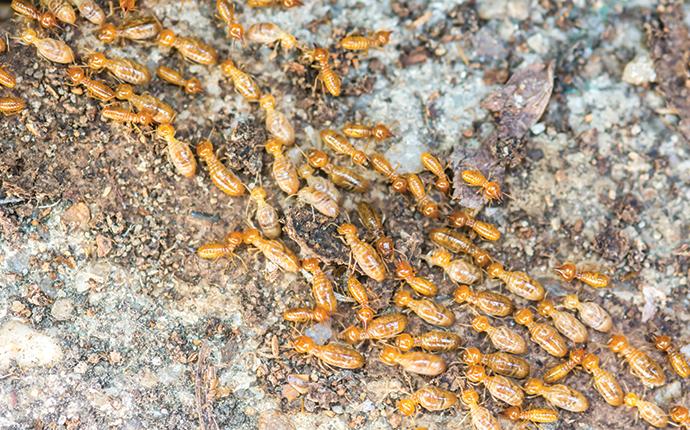 Termite activity isn't a casual occurrence. These wood-eating moisture pests can cause large scale property damage. To detect termite activity, you need to be able to identify the common signs. Here are some indications of termite activity to watch out for:
Damp, damaged, or weakened wood.

Small tapping sounds from inside the walls.

Swarmer termites flying around looking for new places to nest.

Visible cracks and crevices along the foundation.

Windows and doors that are hard to open.

Wings discarded on the floor near doors and windows.

Worker termites in the soil (which look like white ants).
If you suspect any termite activity on your Mandeville property, you need to call us right away. The team at River City Termite & Pest is highly skilled in effective termite control treatments. We will determine the scope of the problem and address the infestation at its core. Get in touch with one of our pest experts today to set up an inspection right away.
Commercial Pest Control In Mandeville, LA
Owning a business is a never-ending job. There's so much to stay on top of and worry about. Unfortunately, it just so happens that pest infestations are a 24/7 threat that you need to deal with. If you want to protect your business and everything that comes with it effectively, you need professional pest protection. Luckily, you've found it.

River City Termite & Pest provides extensive commercial pest control services to guard your facility against nuisance pests. Our team uses the safest treatment methods to address problem areas and eliminate all pest activity from the inside out. We schedule our services quarterly or bi-monthly at your convenience, and we're always here for you in case of an emergency. From industrial sites and office buildings to schools and religious institutions, we protect a broad range of properties, and yours could be one of them. Give us a call to discuss your commercial pest control needs.
Schedule Your Free Inspection
Complete the form below to schedule your no obligation inspection with River City Termite & Pest Control, Inc..
Affiliations & Accreditations